The Best System For Forex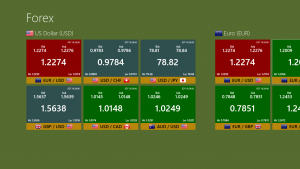 Since most applications needed to run a Forex trading need to be available online and running 24/7. Hosting your Forex account online is just the best solution if you are a serious Forex trader. You need to keep important applications like Meta Trader (MT) platform running 24 hours a day, all year round with know down time or connection problem. To get the best result in terms of performance of your Forex applications when you host it online, you might want to consider hosting your Forex on Windows VPS. Windows VPS Forex plan has been known to be use by many big Forex trading companies and have high recommendation by people that are into Forex trading. It might be because of its reliability in terms of network uptime and security or its VPS stability, Forex on Windows VPS is something someone going into Forex trading should consider.
First step into hosting Forex trading is knowing what you need to set it up. You need a lot of RAM? A lot of space? A lot of traffic? All this doesn't matter much in hosting Forex on Windows VPS. What really matter are the VPS stability and the network uptime. its not advisable to Host your Forex on any VPS plan as VPS's which are used for hosting purposes may experience routine down time or even crash on website which may not have too important effect on them, but on Forex VPS can cause hundred or thousands of dollars lost or worst_ cause interruption in EA work which is one of the crucial Forex application that must stay running.
Why you need your Forex on Windows VPS
You home Network is not reliable enough: Running Forex required some application been online and running 24/7 all year round and a slight interruption of such application can lead to great lost. You need a direct link to an internet to safely run Forex because it only takes few milliseconds to make the different between significant loss and a significant profit. Your home network can get disconnected/ interrupted and therefore, interrupt your EA which is bad for your Forex trading. Hosting your Forex on Windows VPS is the only way to be on a safer side.
Your home PC is not reliable enough:   You cannot rely on your home PC to run Forex account. Its only normal for PC to develop fault at some point in time, fault like restarting or surden shut down can be fatal to your Forex account or even worst. Like hardware crash that may take time to repire or time to restore backup on another PC that is if you are able to backup it up. All these fault will interrupt your Forex EA application which is very bad for your Forex account.  As most of the applications need to stay online and running, You can't be too careful which running Forex company. You need a reliable platform that will not crash, you need to Host your Forex on Windows VPS.
You can access your account any where: Hosting your Forex on Windows VPS can have great benefit to running it. All you need to access and maintain you Forex is any PC and internet connection. You can access your account on any PC any where any time. making it much easy to run and maintain.
You cannot leave your PC on 24/7: Leaving your PC on 24/7 put it on a high risk of crashing. The hardware will burn at some point thereby forcing you offline. Server are built to work 24/7 year round.